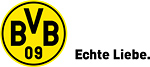 THE BLACK AND YELLOWS LEBANON
Founding Year:
2020
Based in (City, Country):
Beirut, Lebanon
Number of Members:
15
Head of Fan Club:
Karl Haber
Contact Details:
theblackandyellowslebanon@gmail.com


What's your History?
In 2020 the head of our fan club "Karl Haber" started the fan club with one friend and later on they started searching for members who love BVB as much as they love the club and now we're 15 members in less than a year and we're trying to grow as much as possible.
Why do you love BVB?
First and foremost, supporting Dortmund & being able to watch them playing live at the Signal Iduna Park alongside 1000's of other fellow yellows and being a part of that restless yellow majestic wall is in itself a surreal experience.
What's your most memorable BVB-Moment?
One of the memorable moments we will never forget is the UCL 2013 campaign when there has been tears and happiness at the same time.
Where do you watch our matches?
Pub Name: The All Americans Beer Price:
Google Link: Pub Adress: